If you are looking to buy and sell or just buy a property then the Absolute Home – Home Search Calculations Excel sheet is just what you need so you can see all your essential information in one place. within each cell of the sheet there are comments so you know exactly what to put in a specific field.
At the top of the Excel sheet is the Property Buying and Selling Calculations Area.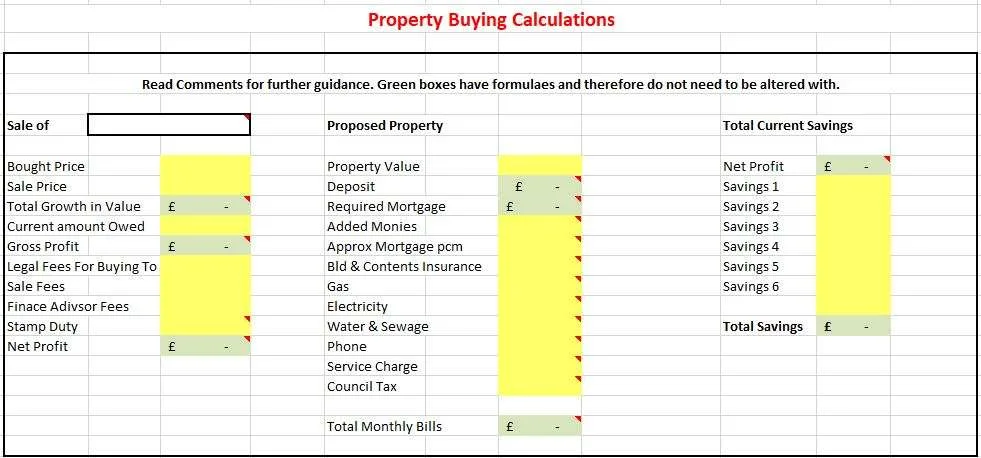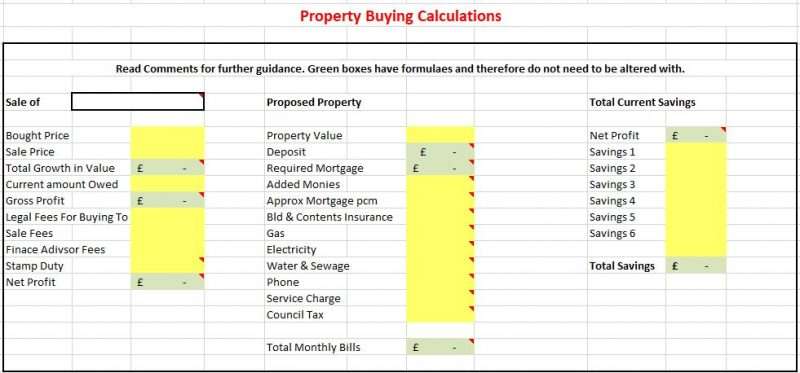 All you need to do is put numeric figures in the yellow fields. The green fields have formulas and will automatically calculate from the figures you have input in the yellow fields. Hover over the red arrows to expand a comment that may give you more guidance.
Half way down you will find the Property Search Details Calculations Area.


In this area you can input various details about every property you are interested in. Insert the room dimensions along with any premium features and image for easy reference later.
This is an example of a completed Property Search Details Calculations Area.


I have copied the input areas a number of times so you can input details of more than one property and when you find other you are interested in compare. I have found this table very useful as a one stop shop to see if properties I am interested in are as good as the next in terms of value. hopefully this will help you to make informed decisions on:-
What to offer for a property when compared to another with a similar square metre value
At a glance see one property you are interested in against another
Highlight premium features that stick out to you
Have a greater understanding of your financial situation with regards to the total cost of buying and selling.
Link to the Gov.uk Stamp Duty Land Tax Calculator.
Link to Zoopla > Search Property to Buy, Rent, House Prices, Estate Agents. The good feature on Zoopla is that if you click on LISTING HISTORY. You will see when a property was originally sold. What it was listed at and any subsequent reductions in asking prices.


Zoopla.co.uk Listing History Details

Link to OnTheMarket | Property, Houses & Flats for Sale & to Rent I have found that my surprise that properties do appear on here before other website. There are even occasions when a property has only been listed on here and not on the above two.
If you have any ideas on how to improve this then please feel free to email me at [email protected].
Price Updated 18, November, 2023 by Admin